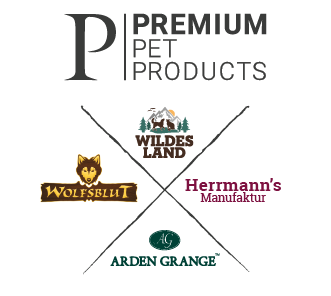 Pad. 30 Stand D62
Brands
Wolfsblut,Wildes Land,Arden Grange,Herrmann's Manufaktur
Premium Pet Products - distributor for healthy and natural pet food brands
Premium Pet Products distributes some of the most famous premium pet food brands such as Wolfsblut, Wildes Land, Arden Grange and Herrmann's Manufaktur. The products of the selected yet broad brand portfolio are of natural origin and provide optimal nutrition for cats & dogs. The high quality standards of these products also apply to the sales representatives. Intensive support in sales and consulting to our trading partners combined with multi-channel distribution, is one of the strengths of Premium Pet Products.
Wolfsblut
Wolfsblut is the most popular dog food brand in Germany and is based on the natural food of the wolf. It stands for pioneering spirit, naturalness and the wolf idea with a high assortment depth.
Quality comes first at Wolfsblut. The team includes veterinarians, veterinary practitioners and veterinary assistants who are passionate about ensuring the high quality of the formulas.
All varieties contain plenty of meat or fish, are grain-free, as well as gluten-free and enriched with valuable superfoods.
Wildes Land
Wildes Land stands for species-appropriate and natural nutrition for dogs and cats. High-quality dog and cat food is produced, which is completely tailored to the natural needs of pets. It corresponds to the natural hunting instinct of the four-legged darlings and supports their health based on scientific findings. Extra meat, no grain / no gluten, food with a high acceptance and compatibility and the use of valuable wild herbs distinguishes the feed.
Arden Grange
Arden Grange has been producing award-winning super premium dog and cat food since 1996. The genesis of Arden Grange is founded by a family with mature breeding skills. Based on the core philosophy of "nutrition without compromise", each product is inherently hypoallergenic. Arden Grange products are naturally preserved without artificial preservatives, flavours, or colours.
Herrmann's Manufaktur
Herrmann's Manufaktur is particularly committed to nutritionally sensitive pets. That's why "organic" has been part of the product range since the company was founded in 2006. The meat from all poultry species and beef comes from controlled organic production; game, sheep, goat or horse come from their natural habitat. Fruit and vegetables as well as the other ingredients are sourced from controlled organic cultivation. For Herrmann's Manufaktur, "organic" also means regionality and sustainability. The production company, run by Erich Herrmann, maintains partnerships with regional suppliers and conserves natural resources by recycling water.
Gallery