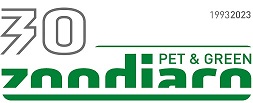 Pad. 30 Stand B72 - B74
Brands
PROLIFE,TOGETHER,GOLOSI,OIKOS FITLIFE
Zoodiaco, leader in the pet sector for 30 year
Zoodiaco represents an innovative method of interpreting the market, creating quality products and services to satisfy the end customer through the partnership with the evolved point of sale.
We are a group that has been operating successfully for 30 years in the PET and GREEN market.
Unique in the Italian Pet food market, Zoodiaco is a consortium made up of 6 companies, each one backed by solid enterpreneurial realities rooted in their own territory and located in strategic areas of our peninsula. they are specialized in the distribution of high quality products and services in the pet sector.
We have 9 proprietary brands,
over 1,000 references in our catalog and over 3,000 specialized stores as partners.
Quality and innovative products, with a high level of service and image for the specialized sales point.
Always respectful of those values that can be traced back to love for animals and Nature.