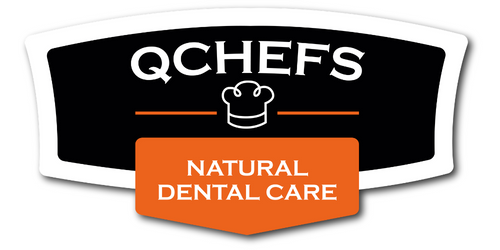 Pad. 16 Stand NEXT - 40
Brands
QCHEFS
QCHEFS Innovative dental care from Q-Pet
Naturally antibacterial: For finally healthy teeth!

Owners and veterinarians take care of the animal health of our pets on a daily basis.
Unfortunately, 80% of dogs and cats still have dental problems. They are mostly caused by bacteria. Bad breath plaque and tartar are signs of undisturbed spread of bacteria. For QCHEFS, this global problem resulted in our mission of the heart: the development of naturally antibacterial dental care.

Microbiologist Anke Nagler and her team have been researching dental care for dogs and cats for 10 years. The result is a dental care, that reduces plaque bacteria without side effects. Just rubbing teeth clean - does not prevent the development of dental problems. But even a small amount of QCHEFS cheese per day is enough to significantly reduce bacteria. It sticks to the cell walls of the plaque bacteria and they are neutralized. The oral flora is back in balance.
The scientific basis for the innovative QCHEFS active principle is oral microbiology. There are over 160 international studies on the topic. QCHEFS not only prevents: Veterinarians are enthusiastic and use them to support their treatment - to reduce acute oral problems. QCHEFS dental care is a natural alternative against bacteria also suitable for sick animals, allergy sufferers and high-risk patients.
Special added value: The immune system is strengthened with natural vitamins and minerals. They are preserved through gentle and sustainable production. This invention is still unique in the world today and was awarded with the Green Tec Award.
Everything from QCHEFS: research, development, production, marketing and sales. The family team together with 40 employees produces everything inhouse in Kümmersbruck - Bavaria GERMANY. The range includes 16 products and 3 recipes as dental snacks - sticks and flakes. All products have a shelf life of at least 2 years and suitable for export. They are sold at specialist shops and veterinarians worldwide.

At QCHEFS, not only the active principle and the manufacturing process are innovative: The Q stands for quality - also in the production. Modern technology and surveillance from the raw material production packaging and shipping guarantee the high product quality. This clearly has won customers' trust.

QCHEFS consistencies are special: every animal has preferences and its own chewing behavior.
Crispy like chips - puffed or rock hard - everyone will find their QCHEFS cheese to chew or nibble on. To lick them up, they are ground into flakes, which are suitable for all animals.
Dogs and cats of all ages love QCHEFS.

Only nature! - free from cereals, lactose and additives - low in calories and meatless! – these product properties are important to customers today! QCHEFS enjoys their trust and is very happy to be highly recommended by them.
 
The QCHEFS brand is recognized and established worldwide. The QCHEFS brand is sold in over 3000 POS worldwide. More than 200,000 QCHEFS fans follow us every day on social media. They report on their favorite dental care and share their joy about radiantly white and healthy animal teeth.
Over 60 social media channels in multiple languages ??and over 15 country-specific websites are maintained by the QCHEFS team. With social ads, it supports sales in the country of QCHEFS partners. WIN – WIN of business relationships is important to us.

For retailers, the potential of a strong brand is more important than ever. The unique added value of QCHEFS for animal experts and customers: New knowledge for the health of our animals can be used effectively! Confidence in QCHEFS and its strong brand energy is your advantage!
Become part of the success story of the QCHEFS family!