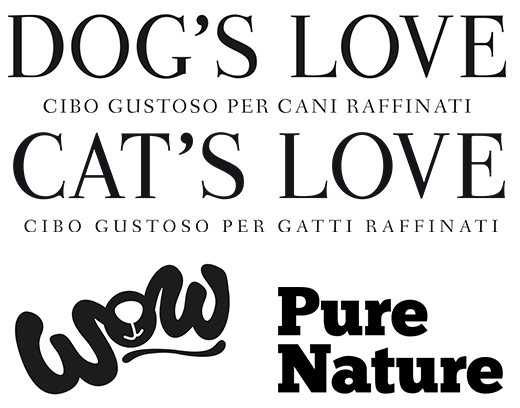 Pad. 29 Stand E19 - F20
Brands
PURE NATURE,ANIBIO,MICROMED,DOG'S LOVE,CAT'S LOVE,WOW
Multi-Brand PetCo with DOG'S LOVE, CAT'S LOVE, WOW & Pure Nature
As true animal lovers, Katharina & Stefan Miklauz founded the pet food brand DOG'S LOVE under the company name PetCo GmbH in 2014 with the aim of providing dogs with a species-appropriate and sustainable diet from preferred regional Austrian raw materials. After a successful start in Austria, the family business quickly expanded to Germany, Switzerland and France. Since 2017, Italy has been one of the distribution countries of PetCo GmbH, Spain since 2018.
Because the company founders also own three cats next to the office dogs Nala, Pluto and Milow, the desire to bring natural cat food to the market came quickly. Therefore, since January 2017, CAT'S LOVE conquers the cat-stomachs of nations. To round off the brand portfolio, WOW was introduced to the market in 2018. With WOW the PetCo company appeals to price-conscious dog owners who nonetheless look for high quality products. Since November 2022, a fourth brand complements the portfolio: With PURE NATURE, PetCo offers natural dog and cat food from Austria and Germany at a particularly attractive price.
DOG'S LOVE is currently the market leader in premium dog food in Austria. The products of PetCo are available in more than 8,000 POS across Europe.
For more information, visit www.dogslove.com, www.catslove.com, www.wow.pet and www.purenature.pet.