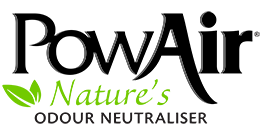 Pad. 26 Stand C105
Why use PowAir?
PowAir is a powerful and effective odour neutraliser. It is made using a natural formula and is safe to use around people and animals. PowAir has all the power you need to eliminate virtually any type of odour. If you have an odour problem; use PowAir and it will be eliminated safely, naturally and permanently.
FREE retail starter pack
All new retailers receive a FREE retail display stand and sample pack to get you started on your PowAir journey.